Common name: diuron(BSI, WSSA, ISO, ANSI, CSA); DCMU(JMAF); dichlorfenidim(USSR)
Trade name:Lucenit; Seduron; Marmex; Dailon; DMU
Chemical name:3-(3,4-Dichlorophenyl)-1,1-dimethylurea
Structural formula: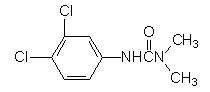 CAS:330-54-1
Molecular formula:C9H10Cl2N2O
Molecular weight:233
Properties: pure product is white odorless crystalline solid. Melting point is 158~159℃, technical product is above 135℃, vapor pressure is (50℃) 0.413mPa. Solubility in water at 25℃ is 42mg/L. Solubility in acetone at 27℃ is 5.3%. It is slightly soluble in acetic ether, ethyl alcohol and hot benzene.
Formula:25%, 80% diuron WP.
Control objects: the product is effective on most annual and perennial weeds. It is mainly used in cotton, soybean, peanut, corn, sugarcane, orchard, tea garden, mulberry field, and rubber garden to control crabgrass, eleusine indica, green bristlegrass, and etc.