Common name: flutriafol(BSI,ANSI,ISO draft)
Trade name:Armour; Impact, Vaspact
Alias:flutriafen, PP140, PP450, TF-3673, TF3674,TF-3752
Chemical name: (RS)-2,4-difluoro-α-(1H-1,2,4-triazol-1-ylmethyl)benzhydryl alcohol
Structural formula: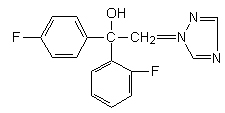 CAS:87676-93-5; 76674-21-0
Molecular formula:C16H24F2N2O
Molecular weight:301.3
Properties:whtie crystal. Melting point is 130℃, vapor pressure at 20℃ is 0.4μPa, density at 25℃is 1.41, solubility at 20℃: 0.18g/L(PH4) and 0.13g/L(PH7-9) in water, 190g/L in acetone, 12g/L in xylene, 69g/L in methyl alcohol. Raw powder is white odorless powder with melting point of 125-127℃.
Formula:Impact12.5% EC (active ingredient is 125g/L).