Common name: tebuconazole(BSI,ISO draft)
Trade name: Rexil, Horizon; Lynx(for seed treatment); Elite, Folicur(for spray), silyacur
Alias:ethyltrianol; tenetrazole; terbutrazol; terbuconazole; Bayer-HWC-1608, HGW1608
Chemical name:(RS)-1-(4-chlorophenyl)-4,4-dimethyl-3-(,2,4-triazol-1-yl)-1-3-ol
Structural formula: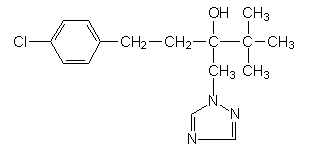 CAS RN:107534-96-3; 80443-41-0
Molecular formula:C16H11ClN2O
Molecular weight:307.31
Properties: colorless crystal. Melting point is 105℃(102.4-104.7℃), vapor pressure at 20℃ is 0.013mPa, solubility in water at 20℃ is 32ml/L,dichloromethane>200g/L, hexane<0.1g/L, isopropanol, toluene 50-10g/L, Kcm 5000.
Control objects:The product is effective in controlling rust disease, powdery mildew, root rot, gray mold, sigatoka, tea blister blight, ustilago nuda, loose face smut of oats, bunt of wheat, bunt smut of wheat, and etc.