Common name: propiconazole(BSI,ISO)
Trade name: Alamo; Banner; Orbir; Dadar; Desmel
Alias:CGA 64250
Chemical name:1-[[2-(2,4-dichlorophenyl)-4-propyl-1,3-dioxolan-2-yl]methyl]-1H-1,2,4-triazole
Structural formula: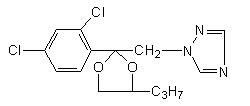 CAS:50207-90-1
Molecular formula:C16H17Cl2N3O3
Molecular weight:342.2
Properties: crude oil is light yellow viscous liquid. Density is 1.27, boiling point is 180℃13.3Pa, flash point is 61℃, vapor pressure is 13.3mPa, solubility in water is 110mg/L. Easily soluble in organic solvents.
Formula: Tilt 25% EC
Quality standard:Tilt 25% EC is composed of active ingredient, emulsifier and solvent. It is light yellow liquid. Density is 0.98-1.00, flash point is 55-53℃. 。
Control objects: the product is used in diseased caused by ascomycetes, basidiomycetes and fungi imperfecti.