Common name:Clethodim
Alias: CLETHODIME; (E)-2-[1-[[(3-Chloro-2-propenyl)oxy]imino]propyl]-5-{2-(ethylthio)propyl}-3-hydroxy-2-cyclohexene-1-one; E,E-(+/-)-2[1-[[(3-CHLORO-2-PROPENYL)OXY]IMINO][PROPYL]-5-[2-(ETHYLTHIO)-PROPYL]]-3-HYDROXY-2-CYCLOHEXEN-1-ONE; SELECT(R); PRISM(R); 2-(1-(((3-chloro-2-propenyl)oxy)imino)propyl)-5-(2-(ethylthio)propyl)-3-hydroxy-2-cyclohexen-1-one; 2-cyclohexen-1-one,2-(1-(((3-chloro-2-propenyl)oxy)imino)propyl)-5-(2-(ethylth
Chemical name: E)-2-[1-[[(3-Chloro-2-propenyl)oxy]imino]propyl]-5-{2-(ethylthio)propyl}-3-hydroxy-2-cyclohexene-1-one
CAS:99129-21-2
Structural formula: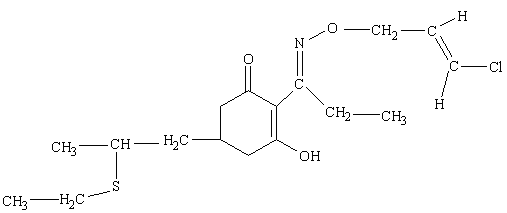 Molecular formula:C17H26ClNO3S
Molecular weight:359.9
Properties: technical material is light yellow viscous liquid. Density is (20ºC)1.1395. Vapor pressure<0.013cp (20ºC). Soluble in most organic solvents. Stable to ultraviolet light. Density is (20ºC):0.9446,pH 4.9.
Applicable crops and control objects:the product is suitable for various dicotyledon crops such as soybean, peanut, rape, cotton, flax, tobacco, broad-leaved vegetable, grape, orange, apple, etc.
Specification:≥91% active compound.