Common name:Quinclorac
Alias: BAS 514; 3,7-DICHLOROQUINOLINE-8-CARBOXYLIC ACID; 3,7-Dichloroquinoline acid-8; FACET; facet 75 df; FACET(R); FAS-NOX; BAS-514-H; QUEEN; QUINCHLORAC; 3,7-dichloro-8-quinolinecarboxylicaci; 8-Quinolinecarboxylicacid,3,7-dichloro- bas51400h; dichloroquinolinicacid; quincloractech; Drive; 3,7-Dichloro-8-quinolinecarboxylic acid; Quinclorac+Bensulfuron-methyl,W.P.
Chemical name:3,7-Dichloroquinoline acid-8
CAS:84087-01-4
Structural formula: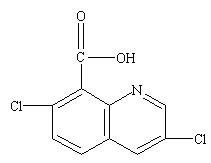 Molecular formula:C10H5Cl2NO2
Molecular weight:242.1
Control objects: the product is mainly used in rice seedling bed, direct sowing paddy field, and transplanted field to control barnyard grass.
Formulation and content: 90% active compound, 25%, 50% wettable powder.